Client Spotlights
I think we may have mentioned this before, but we love our clients! We also have a sense of pride knowing that we helped them to secure their payment rights on cool projects they've been working on or completed throughout their time with us.
With that, we'd like to welcome you to our 2020 Client Spotlights page. Some of the images here are provided to us by our clients and others we captured while driving around or visiting jobsites.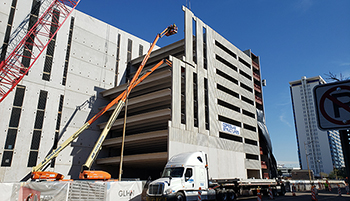 Coreslab Structures
Coreslab Structures is the precast provider for the Catalina Parking Garage project, located in midtown Phoenix. When finished, Coreslab Structures will have produced and hauled 1,304 loads, and approximately 1,360 pieces will have been erected with one crew in 88 days on what will be the tallest (10 Story) parking garage in Arizona.
This project is set to "top off" on February 6th, 2020.
Picture courtesy of Coreslab Structures
All Rights Reserved
---
"We have been a client of National Lien Services for a number of years and highly recommend their services. They provide peace of mind, excellent service and are quick to respond to any request."
~ L. Barrick, Coreslab Structures